Today we are glad to share with you that WEIJING Degating Hammer Sales Volume reaches 88 sets in total.
Thanks to Tempus Next Generatuion Steel Ltd for ordering one set QC355P today. It is coincident that tomorrow is 8/8, 2020.

88 number in Chinese means VERY GOOD LUCK.
WEIJING started to produce the Degating Hammer in May, 2012. The first buyer is LIOHO Foundry Industry KunShan Co.,Ltd which was invested by Taiwan LIOHO Machinery Group in 2002. Then the following happened in the market.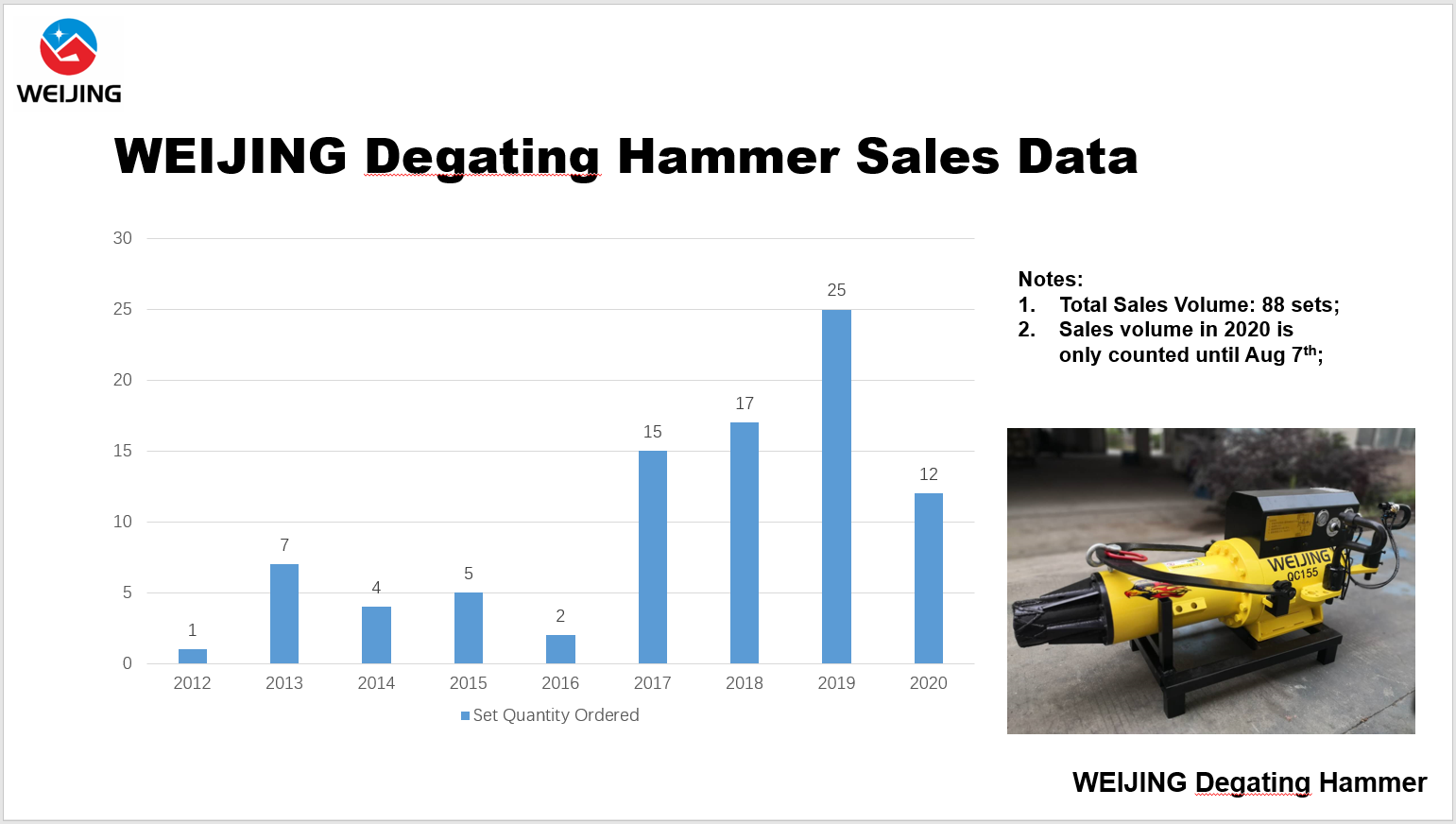 The total sales volume of WEIJING Degating Hammer is 88 sets until today, including one set to Metso India, one set to Indian Ammarun Foundry, one set to Korea Sungbo Industrial Co., LTD, one set to Malaysian K.N.L Foundry Sdn. Bhd.
Tempus Next Generation Steel Ltd heard the performance of WEIJING Hammer in Metso China is much better than one set Western brand Hammer in Metso China. Low quality issues, high ROI, excellent ergonomic designing. So Tempus Steel ordered one set after visiting Metso China. Thanks for their trust and SMART decision.
WEIJING Degating Hammer is a quite good Degating machine to knock off the risers, feeders, gates, sprues from Steel Castings or SG Iron Castings of Horizontal Moulding Line, including wear-resistant castings, windmill castings.
Comparing to sledge hammer or manual hammer, Degating Hammer is a controllable equipment.
More safety, High efficiency, Excellent ROI and More labor cost saving and are the values WEIJING Hammer can bring to the investors.
And Degating Hammer is also helpful for foundries to improve their modernizing image, easy to convince downstream buyers.
Are you interested to know more about WEIJING Hammer? Welcome to visit WEIJING Website below for application videos and more news.